WHAT IS A HIGH TIBIAL OSTEOTOMY?
High Tibial Osteotomy is an operation to straighten the leg bone and reduce arthritic knee pain. The shin bone (tibia) is cut and reset to shift the body weight from the worn inside of the knee on to the normal outer side.
WHY DO I NEED AN OSTEOTOMY?
You may have noticed a gradual bowing of your leg. When this happens, most of the body weight is borne by the worn inside of the knee. This causes pain, stiffness and restriction of day to day activities.
Osteotomy is one option to treat early arthritis. It can relieve pain and prolong the life of the natural knee.
IS THERE ANY ALTERNATIVE?
Initial treatment of knee arthritis is by pain management. This may involve:
Painkillers, anti-inflammatory medication,
Weight loss,
Walking aids, shoe modification,
Physiotherapy
Steroid injection
If pain cannot be controlled by these methods and if it affects quality of life, surgery can be considered.
Depending on your clinical picture and x-rays, I will offer you best option of surgery. In some cases high tibial osteotomy is suitable. However, in some other case partial knee replacement (Unicompartmental knee replacement) is preferable. Total knee replacement is is also a valid option for some cases.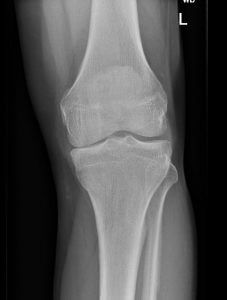 Medial compartment arthrits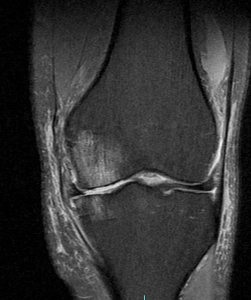 Scanogram before osteotomy
WHAT DOES THE OPERATION INVOLVE?
---
I perform the operation under spinal (needle in the back to freeze legs) or general anaesthetic. I perform keyhole surgery to inspect and if required treat torn cartilage. I shave worn lining cartilage and drill bare areas of bone (microfracture).
I make an oblique cut on the inside of shin bone and cut the bone carefully using a special saw. I gradually open the cut to desired correction based on long x-rays. I then fix the bone with locking plate and screws. In many cases I fill gap with bone graft. I check accuracy with x-rays during operation.
WHAT SHOULD I EXPECT AFTER SURGERY?
---
You will have a padded bandage on knee. You can remove the bandage after 48 hours. You need to keep stockings on for six weeks.
I will review your wound in two weeks and remove clips.
You will need crutches for about four weeks. Initially you can take minimal weight on the operated leg. Gradually this is increased and after four to six weeks you can take full weight on the leg.
You may notice that your leg is slightly longer and your gait may change slightly. You will get used to it by three to six months.
It is common for the leg to be bruised and swell following the osteotomy. It is advisable to elevate the leg an limit amount of walking for two weeks following operation.
WHEN CAN I DRIVE?
---
You can drive an automatic car two weeks following left knee operation.
If you had operation on right knee, you may drive after six weeks if you do not have pain, swelling or inflammation.
It is important that you can perform an emergency stop. You must consult with your insurance company so ensure that your cover is valid.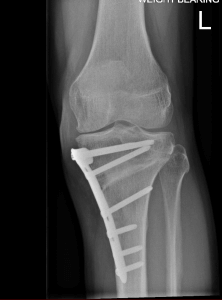 Osteotomy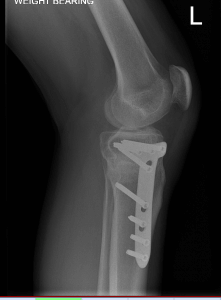 Osteotomy lateral
WHAT ARE THE RISKS?
---
Osteotomy has become a standard orthopaedic operation with good results. It has some risks and complications. However most of the patients are pleased with the results.
Common complications of surgery are infection, bleeding, swelling, stiffness, DVT (clot in the leg) and PE (clot breaking and travelling to lung).
Complications specific to knee osteotomy are damage to nerve or vessle, numbness on side of the knee, compartment syndrome (bleeding in leg causing severe pain and muscle damage), delayed healing and further procedure.
If you have any concern following surgery, please notify your physio or contact ward. I will arrange appropriate review for you. You are advised to avoid air travel for three months after major surgery to avoid risk of deep vain thrombosis (DVT).