MY KNEE CAP HURTS!
---
A painful knee cap or ache in front of the knee (anterior knee pain) is a very common condition in both young and middle age female patients. It is the commonest cause of knee pain and can be present in almost 25% of runners. It is usually the final outcome of various minor problems leading to both loss of function and pain in front of the knee.
WHAT CAUSES PAIN?
---
Anterior knee pain often has one or more root causes. Sometimes these are unknown or undetected.
In research settings various models for causes of pain have been predicted such as
overload on bone and cartilage
less blood supply
nerve related pain
One well respected theory explains that we all have a comfort zone of function, activity or sports and our body and knee work well within it. Even if we have minor issues with poor alignment of the leg, a dropped arch in the foot, poor core muscle strength, lack of flexibility or overuse injuries, we can cope.
When a final insult is added to this in the form of a minor injury or fall, it can throw everything else out of our comfort zone…
WHY BLAME BODY CORE FOR KNEE PAIN?
---
Your core muscles are the muscles of your torso and pelvis. When these work together effectively, they create a stable platform for your knee to work.
It is now clear that poor pelvic control and weak hip muscles put the knee at risk of pain.
Your Physiotherapist can show you exercises to engage the many muscles throughout your torso which can help to coordinate core stability.
WHAT ARE MY TREATMENT OPTIONS?
---
The mainstay of treatment is to improve pain and function through physiotherapy. It is a hard process (like losing weight!) and can take up to six months to respond. Be patient!
You can take pain killers, anti inflammatory gel and I can give you occasional steroid injections into the knee as supportive treatment.
If this does not settle the pain, we can consider surgery in some instances.
I HAD PHYSIOTHERAPY IN THE PAST. DO I NEED IT AGAIN?
---
Physiotherapy for anterior knee pain is a very specialised field. I have had good results from treatment offered by a few physiotherapists in the area and I can certainly recommend these to you.
These Physiotherapists work with both Patient and Surgeon and offer excellent motivation, support and therapy. It is important that you have completed a course of patellofemoral rehabilitation (targeted physiotherapy for anterior knee pain) before considering surgery.
WHAT MAY IT INVOLVE?
---
The basis of treatment is to identify and address key issues such as:
Weak core muscles
Muscle imbalance
Stretch tight muscles (hamstring/calf/quads/illiotibial band)
Abnormal foot or pelvic position
Weak knee muscles
Even simple activity like stepping down or jumping involves multiple groups of muscles working together in a specific sequence, called the kinetic chain. If part of this chain is weak or injured, the body will try and 'work around' it. This often initiates faulty kinematics and leads to anterior knee pain. Experienced Physiotherapists will work with you to identify and modify any functional abnormality noted.
Once the balance is corrected and the technique improved, knee strengthening can be started. If need be, I can give you steroid injections to help pain. Your Physiotherapists can try taping (sports or kinesio tape) or acupuncture to help.
WHAT IS THE SURGERY FOR ANTERIOR KNEE PAIN?
---
Once physiotherapy is under way, I will evaluate your knee with x-rays and MRI scan.
If you have sharp pain with swelling and if the scan shows a mechanical problem in the knee, I will recommend arthroscopy. Common conditions which can be treated are:
Torn cartilage
Damage to lining cartilage of knee creating small flap
Loose body
If you have wear in small localised part, I can try microfracture. I create small perforation in the bone to make superclot. This covers bare bone and over period forms new lining cartilage. This may need use of brace for 4-6 weeks after surgery.
MORE TYPES OF OPERATIONS FOR ANTERIOR KNEE PAIN…
---
In some patients kneecap and patella tendon may not track well as knee bends. This causes wear of lining cartilage of patella. I can offer tibial tubercle osteotomy (breaking and resetting the attachment of patella tendon to bone). This improves tracking and off loads kneecap.
In some cases of normal wear and tear of outer part of knee cap and large patella, I can remove part of knee cap.
In some rare cases the groove for knee cap to glide in (trochlea) does not develop normally. It may be shallow or may have a bump. Knee cap can tilt or may become unstable. In some of these cases, i can offer operation to level the groove and this can improve pain and instability.
Patellofemoral replacement (type of partial knee replacement) has been practiced for some time. Although some surgeons claim good result, overall results especially over medium and long period are not as good as knee replacement.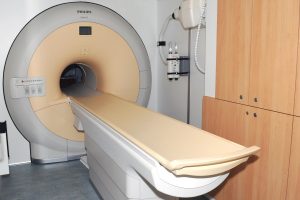 MRI scanner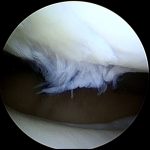 Patella with cartilage lesion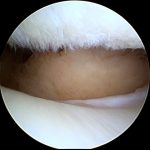 Patella after chondroplasty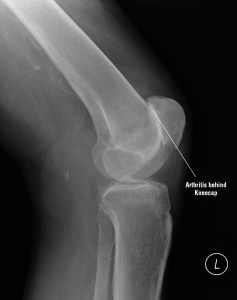 Patella arthritis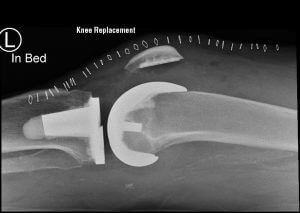 Knee replacement for patellofemoral arthritis
IF YOU NEED FURTHER INFORMATION FROM EXTERNAL SOURCE, YOU CAN FIND IT HERE.